Looking at the comic book super-heroines of today, whether the mainstream heroic honeys or the hard-core hotties from the hentai, you'll notice one thing.  Well . . . two things, specifically, their comically colossal cans, their preposterously pendulous pillows, their hilariously humungous hooters.  Given how long it would take to pull those things into spandex, I often wonder how they find the time to patrol the city.
Then I realized, no one ever made a story where the heroine's impossibly large breasts ARE her super-power.  I pitched "a super-heroine who fights crime with her boobs" to Mariano Navarro and Hernán Cabrera and I heard them scream with joy despite the fact that we were corresponding via e-mail.
In "Big Blue" extra-terrestrial Yaelin, the eponymous heroine, protects the planet from peril with her powerhouse pontoons.  She'll face equally bizarre villains and maybe find romance with a human, all in her journey to foil a plan to destroy the Earth with breasts (you'll have to wait until the last issue to get the specifics on the malevolent machinations mustering mammaries).
It's not just a bawdy book of bodacious boobs.  It IS a bawdy book of bodacious boobs, but it's more than that.  The strong female character, intricate storytelling and eye-popping artwork will appeal to a broad range of readers.  Will you enjoy it?  To quote the world's worst roulette player, "Always Bet on Blue!"
There are hundreds, maybe thousands of comic books sporting super-heroines with big boobs, but no one ever makes a story where the heroine's mammoth mams ARE her super-power.
The main character, Yaelin (a.k.a. "Big Blue") is a blue woman with gigantic breasts.  In the first issue, Yaelin does what so many superheroes do and foils a bank robbery, but unlike other superheroes, she uses her bodacious breasts to pummel the would-be criminals.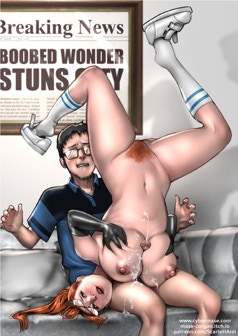 Victory Sex
Getting "Big Blue: Juggs of Justice" down to sixty pages meant making a surplus of sorrowful subtractions and one of the worst cuts was something near and dear to Ol' Mase — big boob banging.  Fortunately the mistress of monumental melons in Malaysia stepped up to the plate again.
Since Tara and Renato would quickly go through all the standard sex positions pretty quickly, perennial painter of pendulous people—Scarlett Ann—imagines what kind of sexy situation they mind themselves in.  I'm not 100% confident that the anatomy and the physics works out but Scarlett is known for her imagination.  Observe overturned orbs obtain orgasm.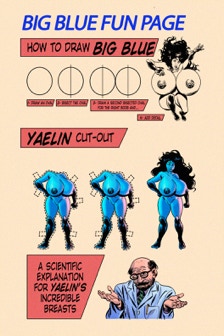 Fun Page
Another piece of memorabilia from the archive!  Silver Age Salt Mine sketcher "Bold" Benito Gallego created this when U.S. Mail rules only let us send out books for fourth class postage if there was at least one page of activities for children.  The fact that children aren't allowed to buy our comic book didn't factor into the equation.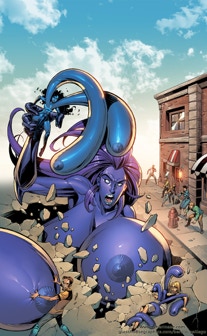 Silver Age Cover (homage)
Long-time "Big Blue" fans will recognize this an homage to the classic cover of "Big Blue" #1 from the Silver Sixties.  Well, I finalized the lawsuit with the Sample family and "Majestic" Morty's kids weren't too good with money.  You see, after everything was tallied up, they owed ME.
So, because Ol' Mase is the soft-hearted sort, I had Mort Semple Jr. do this homage to his dad's famous first feature of the fearless fighter with fantastical flesh floppies in a straight exchange.  I think MJ went a little nuts with the boobs.  I don't know why superfluous sweater-meat is wrapping around Tara or why Baeyed's right boob is bending to battle Renato, but I'm happy to give a rising star some work.  
Inks by Bill Anderson and color by Michael Bartolo.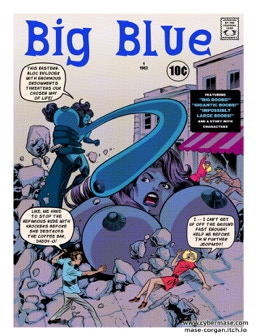 Silver Age Cover 
As you know, most of my archived artwork was destroyed in the great Jonesboro Flood/Fire and occasionally some of it surfaces from private collections.  Boy, was I glad to see this again — the cover of the very first issue of "Big Blue" from 1962.
The artwork is by the legendary "Majestic" Morty Semple.  By developing the look, story, setting, supporting cast and basic concept of "Big Blue," he was a real help to my creation of the character.
Chapter 6 page 2 (Art by Mariano Navarro and Hernán Cabrera)
This is the first completed page of art for chapter 6 and wow!  It's a whopper about whoppers.
Yealin is on the ropes, her undulating udders useless to undermine unconscionable undertakings.  Will Nucleus achieve her plan to destroy the human race?  Honestly, no, I mean, it's a super-heroine story, but come on, we need big sales.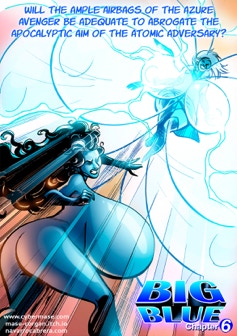 Chapter 6 Pin-up, a.k.a. "Rack-narok" (Art by Mariano Navarro and Hernán Cabrera)
This is it!  The final showdown between the Yaelin and the massive melloned menace.  Will the ample airbags of the azure avenger be adequate to abrogate the apocalyptic aim of the atomic adversary?  Also, what exactly is going on here?  You'll have to buy the sixth and final issue of "Big Blue" to find out.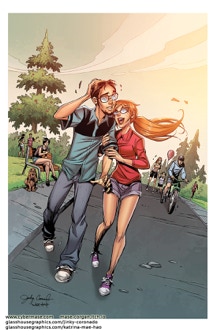 Renato and Tara (Art by Jinky Coronado and Katrina Mae Hao)
All of you Maseheads who love these promos for their lewd and lascivious leanings may be disappointed, but come on, let's reflect on those precious moments that don't call for comically colossal casabas.
This depiction of the daring duo is done by Jinky Coronado (Banzai Girls) and Katrina Mae Hao (Trophy Girls, Joan of Arc).  I was fortunate to find the fine Filipino fabulists to bring this pin-up to life.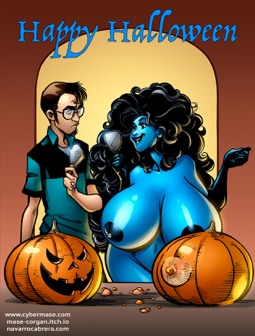 Halloween (Art by Mariano Navarro and Hernán Cabrera)
Everyone who knows Ol' Mase knows that my favorite time of year is Halloween.  Granted, we don't get as many trick-or-treaters as we could, our house having the only permitted moat in Southern California (we got grand-fathered in!), but I love dressing up, carving pumpkins and eating candy — diabetic candy for Ol' Mase, but I still got one good foot, so maybe this October 31st will be my cheat day.
Mariano and Hernán got into the spirit and sent in this Halloween greeting featuring the pendulous protagonist.  It looks like Yaelin sees the holiday through the same mammoth mammary myopia through which she views everything else.  I don't know why Renato looks, perturbed; I'd be happy to have that gazongaed gourd guarding the gates.
Happy Halloween from the hagiographers of heroines with heavy hooters.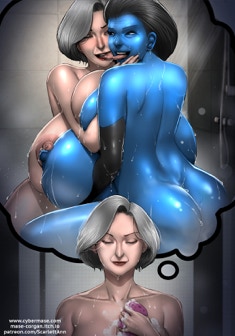 Shower (Art by Scarlett Ann)
As those who keep current with the characters of the comic know, Elaine, the envier of exaggerated endowments, is obsessed with the azure alien with ample assets, Nucleus.  Elaine wants a pair of preposterously pendulous pom-poms, but did you know that she had an erotic attraction to her blue, busty benefactor.  This sapphic subplot didn't make it into the final script, but Scarlett Ann — mistress of monumental melons in Malaysia — decided that no sexy scenario can remain on the cutting room floor.
Here she presents Elaine as fantasizing about her and Nucleus sharing shower shenanigans of the sexy sort.  It's irrelevancy to the plot would be troublesome if not for the fact that it's awesome.  Hell, I would have slipped a third woman in there, but Scarlett charges by the boob.
Oh, and check out Scarlett's work at patreon.com/ScarlettAnn.  Her ongoing series, "Milf Airline," will appeal to Big Blue Belovers.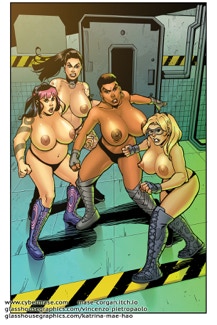 The Acolytes (Art by Vincenzo Pietropaolo and Katrina Mae Hao)
Vincenzo Pierpaolo — the Italian inventor of images of immense ingenues — and Katrina Mae Hao — the Filipino finalizer of figures of female flesh — show us their take on the ominous owners of an octet of oversized orbs.
The only problem with this version of the voluptuous villains is that the ladies are so appealing it's too easy to forget that they're evil.  Don't forget to pick up a copy of "Big Blue" chapter 5 to see what happens when the Cobalt Crusader confronts this corrupt quartet.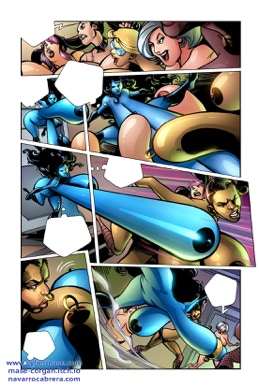 Chapter 5 Page 2  (Art by Mariano Navarro and Hernán Cabrera)
The premiere picture from the penultimate part of our presentation.  In chapter 5, Yaelin faces four humans with Weaponized Augmented Mammaries (WAMs). That's ten titanic tits tussling.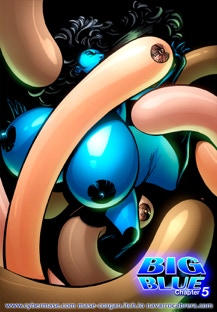 Chapter 5 Pin-up, a.k.a. "Besieged" (Art by Mariano Navarro and Hernán Cabrera)
Yaelin is engulfed by the elongated endowments of the evildoers known as "The Acolytes." This quartet of criminals with colossal cans extend eight enhanced Everests. Is this the finale for the fulsome fighter?  Plus, Yaelin uncovers the identity of the mastermind known only as "Nucleus" and their secret plan to conquer Earth. Spoiler Alert: It's breast-related.
Intruder (Art by Don Lomax)
As you all know, I have been working with Massive Melon Maestro — Don Lomax — on and off, including an attempt to transform "Big Blue" into a hard boiled detective series for "Jut" magazine in 1980.  After they passed, most of the artwork was destroyed during the Mount St. Helens eruption and the rest was hit by the missing piece of SkyLab.  1980 was a very bad year for me.
However, Don recently sent me this page of artwork and it's great to see it again.  I'm curious as to why the masked misanthrope has such awful peripheral vision, but Don insists that it's "artistic license" pointing out that this is not the most biologically implausible thing happening.  
Well, it doesn't matter, the Reagan-Era renaissance of the righteous renegade with the ridiculously rotund rack was never realized.  I would have gone bankrupt in the '80s if not for my line of erotic Rubik's Cubes.
Buy Don's tomes of titanic titted tales here and check out his acclaimed series "Vietnam Journal" here.
Chapter 4 Page 7  (Art by Mariano Navarro and Hernán Cabrera)
The plot thickens as thick women plot.  Elaine Gantry, determined to use her swelling sweater-puppies to see her sinister scenario successful, makes machinations with the mysterious, mammoth mammary maintaining, menacing master-mind mononymously monikered "Nucleus."  However, Big Blue busts in on her bad behavior bearing her bodacious bazooms to scuttle the skylight and squash her scheme.  Funny thing is, the skylight wasn't locked.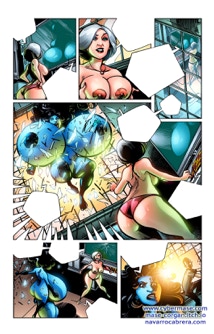 Chapter 4 Pin-up, a.k.a. "Smooch" (Art by Mariano Navarro and Hernán Cabrera)
As you can see, things start to heat up in chapter 4. Renato and Yaelin want to consummate their relationship but alien anatomy doesn't always agree with amorousness.  I'm not entirely sure how it is that Renato's torso isn't being crushed, but I trust Mariano and Hernán's judgement.  So, what does intimacy between an inhibited introvert and an immense indigo interplanetary immigrant involve?  Buy a copy to find out.  Buy two copies in case you weren't paying attention the first time.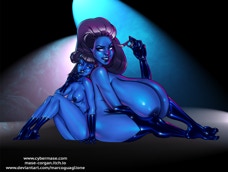 Saino and Baeyed (Art by Marco Guaglione)
When Marco Guaglione — Italian initiator of images of irresistible ingenues — decided to take a crack at drawing the sexy sinners from Yaelin's rogues gallery, I immediately schemed to get double the delectable dames.  I asked Marco for something alluring featuring both of the azure adversaries.  Even though Saino and Baeyed never appear together, and possibly don't even know each other, I wanted to see the two of them together in an erotic pose. The come-hither looks aren't really in character but these pin-ups stopped following the logic of the story a long time ago.
Check out more of Marco's mouthwatering maidens at www.deviantart.com/marcoguaglione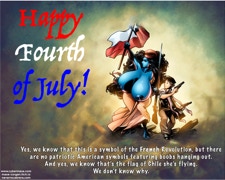 Fourth of Bluely (Art by Mariano Navarro and Hernán Cabrera)
Happy birthday, America!  Well, this one is self-explanatory, mainly because there's literally an explanation on it.  Yeah, we kind of rushed to get a patriotic image of Yaelin together, but on the bright side, we can re-use it for Bastille Day in ten days. 
If my petition to have the Statue of Liberty be topless gets accepted, this will be a very different picture next year.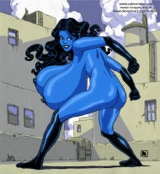 Yaelin Ready for Action
More fan art, this time from master of magnificent maidens Bordon.  The Polish producer of pages of pretty personae decided to give us an upbeat and heroic Yaelin, perhaps smiling at a friend, perhaps catching a villain try to get the drop on her, either way we're happy to see her. 
Check out more of O-mac's over-endowed ingenues at www.deviantart.com/bordon.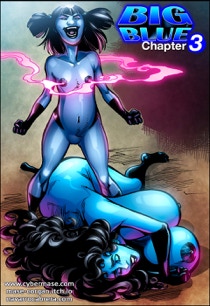 Chapter 3 Pin-up, a.k.a. "Saino wins" (Art by Mariano Navarro and Hernán Cabrera)
This artwork was used to promote Big Blue chapter 3.  The key was to show that the pendulous protector was taking on a villain who belongs to the "small breast" version of a Gazongan and she proves that bigger isn't always better.  Can Yaelin defeat the Petit Peril, the Slender Slayer, the A-Cup Assassin, the Flat-chested Foe, the Ballerina Bodied Baddie?
This is the first ever completed image of Saino (a.k.a. "Little Blue").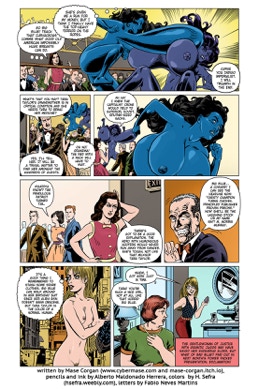 Silver Age Big Blue (Art by Alberto Herrera, Colors by H. Sefra, Letters by Fabio Martins.)
When I got back into the x-rated comic book game, a lot of my new fans asked about my older work.  Unable to find any on the internet, some of them began to think that my fifty plus years of bringing into being bawdy books of bodacious bazooms is a tall tale.  The truth is that my artwork was destroyed in the great Jonesboro Flood/Fire and I'm still recovering from the loss.  However, now that I'm in the public eye again, super-fans who bought up original artwork are sending me facsimiles for my own archives.  Presented here is a page from the original Silver Age run of "Big Blue."  Timeless.
Pencils and Inks by Alberto Herrera, Colors by H. Sefra, Letters by Fabio Martins — three of the best artists from the Silver Age Salt Mines of the Sixties.  A great bunch of guys!  Even when they were suing me for unpaid royalties the camaraderie was tangible.
Alberto put his blood and sweat into every page, and not because I never provided him with enough ink.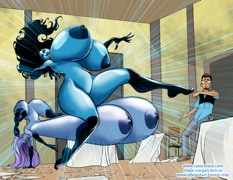 Diner Fight (Art by O-mac)
Here it is!  The first bit of fan art from the aficionados of the azure avenger.  O-mac has made a name for himself as a premiere producer of pictures portraying personae possessing a pair of pendulous pontoons, so I was glad that he could re-imagine the diner fight from chapter 2.
Check out more of O-mac's over-endowed ingenues at www.deviantart.com/o-mac.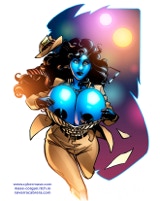 Undressed for Action (a.k.a. the "Clark Kent") (Art by Mariano Navarro and Hernán Cabrera)
Let's forget that Yaelin doesn't dress like a reporter and her body is completely different when she assumes her alter-ego.  For promotional art, I really want to combine superhero tropes with images of big breasts, even if the resulting image diverges from the story of Yaelin.  A Clark-Kent style costume change seemed appropriate, especially because Yaelin is nude, and I liked the idea of a woman being heroic by taking off her clothes.
Note the boobs have a polygonal reflection again.  Even though it's unlikely that anyone, man or woman, would wear a tie that matches their hat's headband, I like the idea that Yaelin would dress like that (if she ever got dressed).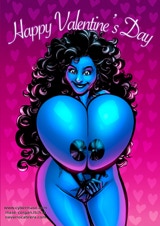 Valentines Day (Art by Mariano Navarro and Hernán Cabrera)
The Kickstarter to fund chapter 2 ended on February 17th, so I thought that a Valentines Day themed pin-up would be the best way to attract some last minute pledges.  The great thing about having Mariano and Hernán on my side is that I can say "draw Yaelin so her boobs form a heart shape" and they do it without skipping a beat.
Note the subtle reflections on the heroine's humongous hooters.  If you look at photography, often times surfaces will have a rectangular reflection on them because the lights used are these compact fabric rigs that unfold into a square funnel that directs the light at the subject.  By copying that look, the artist not only gives it a more realistic look, but makes the boobs look rounder and fuller, which, let's face it, is first on the to-do list.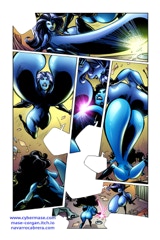 Chapter 2 Page 7  (Art by Mariano Navarro and Hernán Cabrera)
This was the first completed illustration of Yaelin fighting Baeyed and the first time page of chapter 2 to be completed.  Now I don't want my fans to think I've turned into one of them art school types who uses five words when one would've done the job, but this art is "multi-layered."  You see we need Ol' Mase's trademark absurd erotica but the actual fight had to be dramatic and suspenseful, lest the readers disinterested in desirable damsels with disproportionate dimensions find the bawdy book boring.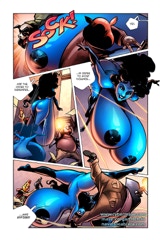 Chapter 1 Page 4 (Art by Mariano Navarro and Hernán Cabrera)
Yaelin in action.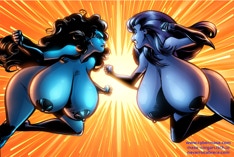 Chapter 2 Pin-up, a.k.a. "Clash" (Art by Mariano Navarro and Hernán Cabrera)
This artwork was used in the promotion Big Blue chapter 2.  The key was to show that the pendulous protector was taking on the diabolical doppelgänger and make sure the audience knows that this issue features twice the titanic tatas.
This is the first ever completed image of Baeyed (a.k.a. "Bad Blue") and Mariano and Hernán achieved the task of making her look like she was from the same species as Yaelin but still look like a different person.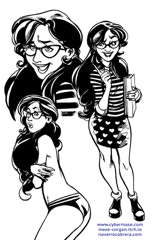 Tara Original Sketches (Art by Mariano Navarro)
They told me I was crazy.  Actually, they say that all the time, but this time they told me I was crazy for not introducing all the main characters in the first issue.  I think I made the right choice getting right to the action, so in issue two, we had to get down to the task of introducing Tara and Renato.  These are Mariano's original sketches. First, Tara — the slender secret-identity of the stacked super-heroine.  She was designed to be the visual opposite of Yaelin — skinny, awkward and flat-chested.  We changed the face before the issue was produced, but the body and mannerisms are perfect.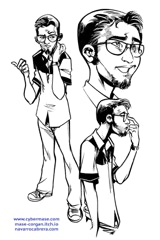 Renato Original Sketches (Art by Mariano Navarro)
Mariano's original pen and ink sketch of Renato — the hapless honey of the heroine with humungous hooters.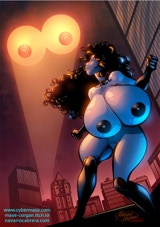 Boob Signal (Art by Mariano Navarro and Hernán Cabrera)
For promotional art, I really wanted to combine superhero tropes with images of big breasts, and this was my solution.  Note that Yaelin's gigantic juggs move with her body as she turns her body.  It's Mariano's attention to detail that makes him such a great asset.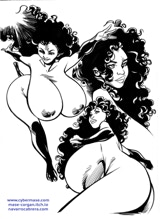 Yaelin Original Sketches (Art by Mariano Navarro)
From Mariano's sketch book, these show off Yaelin in different poses and establish how her boobs move with her body — a surprisingly important detail to figure out in advance.  I also like that Yaelin has a sexy face, and even when you don't see her most prominent attributes she's gorgeous.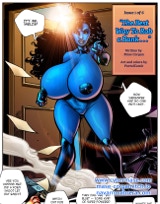 Chapter 1 Page 3 (Art by Mariano Navarro and Hernán Cabrera)
This was the first completed illustration of Yaelin and the first time we see her in the book.  I wanted her to look sexy and powerful and the artists nailed it again.

Chapter 1 Pin-Up (Art by Mariano Navarro and Hernán Cabrera)
Mariano and Hernán had a hell of a task in front of them.  They had to create an image of the deshabille defender that showcased her bodacious body but was safe for PG rated sites, not the least of which was the Kickstarter web site itself.
The Argentinian Artistes picked this pose and I'll be damned if it isn't perfect.  Hopefully lovers of luscious lasses will be so impressed by her gargantuan gazongas that they won't think about the fact that Yaelin can't fly.
Can I get a physical copy of the book?
Right now, it's digital only, however, in the future, we will look into creating an actual book.
Is Yaelin nude or wearing a skin-tight blue costume?  If nude, why don't we she her "downstairs business?"  If she's wearing a costume, why do we see her nipples?
The busty blue babe is indeed bearing her birthday suit the whole time.  Why is her undercarriage free of feminine features?  Believe it or not, this is explained in a future issue and actually is pivotal to the overall story.  Ol' Mase has told some whoppers in his time, but this ain't one of them. All will be revealed.
How do you pronounce Yaelin?
Yaelin is pronounced YEAH LEAN, where "Yeah" is like yak without the k.